Tech and the Dark Side of Prosperity in the San Francisco Bay
This conversation between Richard Walker, author of Pictures of a Gone City: Tech and the Dark Side of Prosperity in the San Francisco Bay Area, and Lenny Siegel, then Mayor of Mountain View, takes a hard look at current realities of life in the Bay Area in the midst of the tech boom which has transformed the metropolitan area in a number of ways – and not all to the good, despite the immense growth of companies, jobs and incomes. Despite its liberal leanings, the region is marked by grave inequality, millions of workers struggle to make ends meet, transportation systems are overloaded and, notably, an housing is in full crisis mode, featuring exorbitant rents, mass evictions and displacement, and rampant homelessness.
Mountain View will allow 2 marijuana stores; Asian parents object
Mid-Peninsula marijuana users will soon no longer have to travel to San Jose or San Francisco to pick up cannabis products, Mountain View City Council decided late last night (Oct. 2).
Around 11:20 p.m., council voted 5-2, with Vice Mayor Lisa Matichak and Councilwoman Margaret Abe-Koga opposing, to allow two marijuana shops and two delivery services to secure permits and operate in town.
Matichak and Abe-Koga, who have been less enthusiastic about allowing marijuana to be sold in town, wanted to allow a total of two businesses, rather than four. But Mayor Lenny Siegel and council members Chris Clark, John McAlister, Ken Rosenberg and Pat Showalter voted that proposal down.
The issue proved to be divisive along cultural lines, with dozens of first-generation Asian residents speaking out against the prospect of marijuana businesses in town… continue
Mountain View leads the way on housing growth
In a lackluster year for new construction, data shows city stood out in 2017
The Bay Area largely missed the mark on housing growth last year, falling well short of goals set for the region and exacerbating an already bad jobs-housing imbalance, according to new data released by the Metropolitan Transportation Commission (MTC).
But buried in the grim news are signs that some cities, particularly Mountain View, are making strides in combating the housing crisis. The latest data shows Mountain View issued more permits for housing in 2017 than it has in the past three decades, amounting to nearly one in every five housing permits issued in all of Santa Clara County.
Data provided to the Voice by MTC shows that Mountain View has issued permits for fewer than 300 units, on average, every year going back to 1990. But add in data for 2017 — when the city issued permits for 1,539 units — and the city's housing growth resembles a hockey stick. Every jurisdiction within the county, including unincorporated areas, issued permits for a total of 8,263 housing units during the same year, meaning 18.6 percent of the homes were in Mountain View.
The housing data shows the city is punching above its weight… continue
What a rent control fight in Silicon Valley could mean for the rest of California
A fight over rent control has raged for three years in the Silicon Valley suburb of Mountain View with no end in sight.
It began in October 2015, when Mountain View City Council members rejected pleas from tenant activists to limit rent increases. Tenant groups responded with a November 2016 ballot initiative to restrict rent hikes, and council members countered by putting a less stringent proposal before voters.
The tenants' plan passed, and landlords in Mountain View sued to overturn it — the lawsuit failed. Now signature gatherers are once again congregating outside Mountain View supermarkets, this time for a landlord-sponsored rent control initiative to turn the rules in their favor.
"It's a blur of posterboards," said Mountain View tenant activist Kristina Pereyra, 49, describing the city's flurry of activity on rent control.
Similar battles could be coming to the rest of California. In November, voters across the state will decide on Proposition 10, an initiative to repeal the Costa-Hawkins Rental Housing Act, a 1995 state law that keeps local governments from implementing most forms of rent control… continue
The Birthplace of Silicon Valley – Shockley Dedication Event
See Lenny addressing the attendees.
Pride Flag to Fly Over Mountain View during LGBT Pride Month

On June 5, City Council will raise the Pride Flag at the Civic Center Plaza in recognition of National LGBT Pride Month. The rainbow-colored flag will fly just below the official City of Mountain View flag for the remainder of the month of June thanks to an update to the municipal code that passed during the May 15, 2018 Council Meeting. The updated City regulation will allow for the Pride flag to be flown for the month of June each year going forward.
Cities in Silicon Valley consider passing new business tax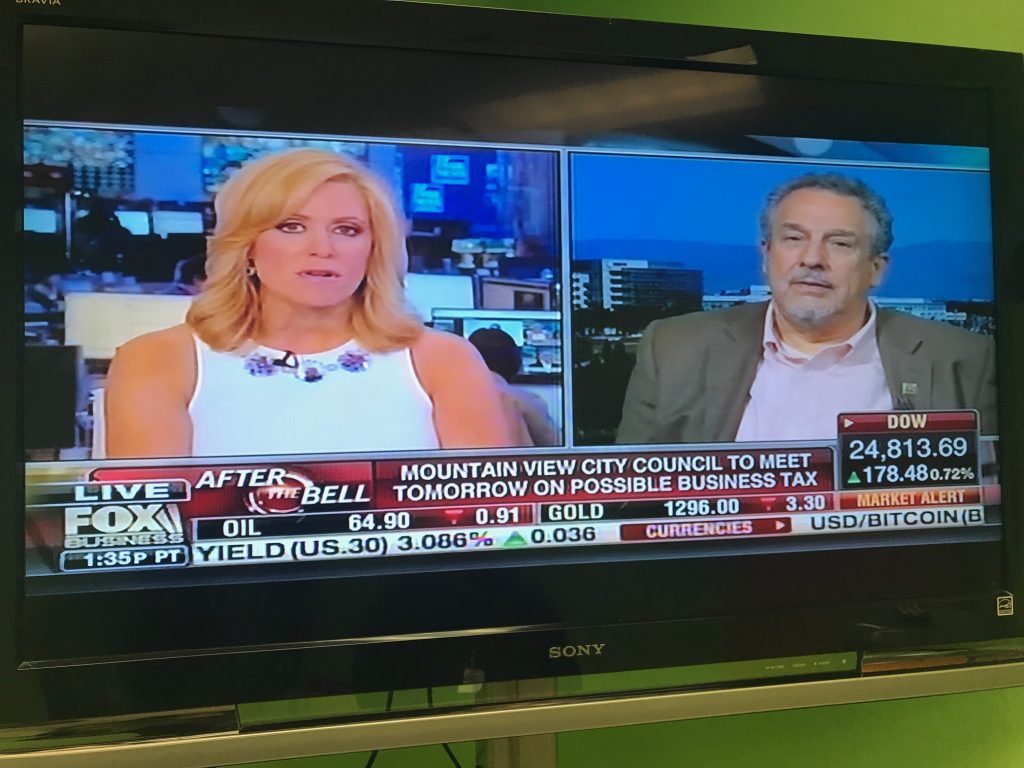 Click the image to see the interview.
The $5 million Google tax that could fix every Silicon Valley problem
Mountain View's mayor, Lenny Siegel, says it has "too many good jobs" and not enough transit.
The solution: Slapping a multimillion-dollar tax on Google, by far the city's largest employer.
The tax, which may end up on the November ballot, could charge Google as much as $5.4 million annually, according to one option under discussion. Other large businesses in Mountain View like software firm Synopsys and financial software maker Intuit would pay thousands of dollars more each year, with a tax based on how many employees they have.
"Employment is growing faster than we can house people and provide transportation for them," Siegel said at a City Council committee meeting Thursday to discuss the issue. Businesses shell out vast sums anyhow, he said: "They have to pay (higher) salaries because they can't find workers, or they pay the tax."
The idea of such a tax isn't new… continue
City, community collaborate to tackle housing crises in Mountain View
Located just six miles outside of campus, Mountain View is an affluent city home to large corporations such as Google and LinkedIn, but the jobs-housing imbalance and swelling homelessness crisis there have prompted action from locals and city councilors alike — including open discussions of Stanford's expansion plans and its implications for the housing crisis.
The shortage of available and affordable housing is a critical problem in Santa Clara County, where the effects of the technology boom have resulted in steep rents, stagnant wages and homelessness among local residents.
Newly-elected mayor of Mountain View Lenny Siegel, a former Stanford student, attributed the source of the regional housing and jobs crisis to Stanford… continue
New Mountain View mayor: It's all about housing, transportation and immigrant rights
In an interview Tuesday afternoon before he was officially named mayor of Mountain View, Lenny Siegel said he believes the City Council already has set a good course for the coming year.
He said major issues facing the city are housing, transportation and protecting residents against the anti-immigrant actions of the Trump administration.
"We've already pretty much set a course on building a lot of not just housing, but new, denser neighborhoods, expanding the housing supply significantly," he said. "We just have to make sure that it is done right. Mountain View, at least, is trying to solve the regional housing crisis…" continue
Longtime Mountain View activist named mayor
Lenny Siegel unanimously selected; Lisa Matichak is vice mayor
Lenny Siegel first arrived in the Bay Area to study physics as a Stanford undergrad. He never graduated — instead the young activist found his true calling in the raucous politics of the time. The student protest movement was gaining steam, and every aspect of society seemed to be crying out for change: civil rights, the environment, and especially the war in Vietnam.
It was a time of shattering windows with rocks, student walk-outs and occupying campus buildings. For Siegel, as a leader in the university's chapter of the Students for a Democratic Society, it was when he learned the art of political compromise: tempering, negotiating and partnering with myriad factions toward a common goal… continue
Siegel, longtime progressive activist, elected mayor
Longtime progressive activist and community organizer Lenny Siegel, who served as vice mayor of Mountain View last year, won his City Council colleagues' unanimous support last night (Jan. 9) to serve as mayor for 2018.
Siegel has long championed housing construction in Mountain View, which has led the pack on the mid-Peninsula in its approval of housing projects and demands of large companies to build housing to accommodate large numbers of new employees.
Siegel's council service grew out of his work as the founder of Balanced Mountain View, which advocates for correcting the jobs-housing imbalance, with an emphasis on sustaining the community's diversity and quality of life… continue
Chatting with Mountain View's Lenny Siegel: on building scads of new housing near Google's campus
Lenny Siegel has a lot to say about breaking the back of the housing crunch in Silicon Valley.
A reform-minded member of the Mountain View City Council, Siegel contends that progress is being made. And he can call up the numbers to back his claim: As of the end of 2016, more than 18,000 new housing units had been approved or were under review by the city. Nearly 10,000 units are slated for the North Bayshore neighborhood where Google has its main campus… continue
One advocate's take on Bay Area housing crunch: There's progress being made
The Bay Area's housing crisis is a regional issue that requires local solutions. Enter the city of Mountain View, which is aggressively working to do something about the housing crunch – thanks in part to Lenny Siegel, a city council member since 2014 and one of the region's more outspoken advocates for new and affordable housing… continue
Teslas in the Trailer Park: A California City Faces Its Housing Squeeze
MOUNTAIN VIEW, Calif. — If there is anything that just about every Californian agrees with, it is that it costs too much to live in the state. Over the last few years, the price of buying a home or renting an apartment has become so burdensome that it pervades almost every issue, from the state's elevated poverty rate to the debate about multimillion-dollar tear-downs to the lines of recreational vehicles parked on Silicon Valley side streets.
The town of Mountain View, Google's home, wants to do something about that. Given new marching orders from a reform-minded City Council that was swept into office here two years ago, Mountain View is looking to increase its housing stock by as much as 50 percent — including as many as 10,000 units in the area around Google's main campus.
"We need to provide housing because there's a housing shortage," said Lenny Siegel, a Mountain View councilman. That may seem an obvious tautology, but it turns out to be highly contentious in a state where most cities and suburbs are still dominated by anti-growth politics that seek to maximize the construction of tax-generating offices while minimizing the number of budget-depleting residents… continue
Google Plans New Headquarters, and a City Fears Being Overrun
MOUNTAIN VIEW, Calif. — Apple is moving into Silicon Valley headquarters that look like a spaceship. Facebook is expanding its campus with a new building designed by Frank Gehry. Now it's Google's turn.
This week, Google, the search giant, is expected to propose new headquarters — a series of canopylike buildings from Heatherwick Studio, a London design firm known for works like the fiery caldron at the 2012 Olympics, and Bjarke Ingels, a Danish architect known for his innovative designs.
The project in Mountain View, which Google has not made public but has discussed with members of the City Council, is likely to aggravate an increasingly testy relationship between the company and community leaders who fear the company is overrunning their small city… continue