Comments on September 25 agenda items related to Stanford
Though I currently serve as mayor of the City of Mountain View, I am not representing the City Council in these comments. Frankly, we are too busy approving and planning for housing within Mountain View to pay attention, as a body, to plans in other jurisdictions.
I am not here as an adversary of Stanford University. I root for its teams. I enjoy its cultural events and museums. I recognize the valuable contributions it has made to the success of the Silicon Valley economy. Many of my friends, neighbors, and constituents work for Stanford.
I appreciate Stanford's pioneering efforts in Transportation Demand Management, but that does not absolve Stanford—as a university and as a corporation—of its housing responsibilities. Let's be clear: Stanford's unbalanced development is a major reason why housing is in short supply and so expensive here… continue
Comment on Recirculated Partial Draft EIR/EA for the US Highway 101 Managed Lanes Project
California Department of Transportation, District 4
Attn: Yolanda Rivas
By e-mail at SM101DEIR_EA_comments@dot.ca.gov
Dear Ms. Rivas
I am writing to comment on the Recirculated Partial Draft EIR/EA for the U.S. Highway 101 Managed Lanes Project. Though I currently serve as the Mayor of the City of Mountain View, these are my personal comments. Our City Council has not discussed this project.
I find the Recirculated Partial Draft confusing. Filled with models and relying on references to other document, it obfuscates the central purpose of the preferred alternative: It is designed to encourage affluent drivers to drive greenhouse-gas-emitting single-occupancy vehicles (SOVs) by creating a complicated, expensive mechanism for collecting tolls.
It would be much more equitable and environmentally sustainable to abandon the toll lanes and focus on expanding capacity for high-occupancy and electric vehicles… continue
Lessons from the Historical Development of Silicon Valley
Presentation to the 2018 Guangzhou Financial Roadshow to Global Bay Areas, Silicon Valley
Welcome to Silicon Valley.
Last year, when I spoke to another delegation from Guangzhou, I talked a little about the history of Silicon Valley. I was surprised to learn, after my presentation, that many of the Americans who work here in the Valley don't know how and when the Valley got its nickname… continue
Silicon Valley's Strengths: Open Information Flow and Immigration: a presentation to the Guangzhou Dialogue
I am honored today, on behalf of the city of Mountain View and the other communities of Silicon Valley, to welcome our guests from Guangzhou. While China has a history extending millennia, the San Francisco Bay Area has been densely settled for no more than 240 years. The concept of Silicon Valley is only 46 years old, yet now around the globe our region is synonymous with technological innovation… continue
---
Stop the Ban!
MVHJC to oppose the "Sneaky Ban"
At last night's Mountain View Housing Justice Coalition meeting the group discussed decisions made by the Mountain View City Council on June 11. We were pleased that the Council did not enact the 24-7 Oversized Vehicle Parking Prohibition ordinance, but we were concerned that the proposed substitute – a 2 am to 6 am city-wide ban on oversized vehicle parking – would have the same effect: It is designed to throw vehicle residents out of town, particularly if, as proposed, the Safe Parking lots require that people leave the lots during the day. That is, until there are sufficient places in Mountain View for people to keep their vehicular homes around the clock, we will oppose any form of ban. In fact, because the partial ban would be a de facto ban, a majority believed that we should call it the "Sneaky Ban."
We decided, as a group, to prepare for a referendum signature drive if the Council enacts the 2 am to 6 am ban this Fall. We will have 30 days after the "second reading" vote by the Council to collect the signatures of 10% of Mountain View voters to prevent implementation of the sneaky ban and place it on the March ballot.
We also decided to send a letter to the City requesting that the city reach out to vehicle residents, holding a "neighborhood meeting" with them to hear what they think about the proposed Safe Parking program and Oversized Vehicle Parking Prohibition. Mountain View has a solid history of meeting with residents about policies and programs that affect them. Why not do the same with vehicle residents?
Safe Parking PowerPoint Presentations
Safe Parking – A Way Forward PowerPoint presentation by Dave Arnone
Safe Parking PowerPoint presentation by Lenny
NO BAN YET
Around 3:00 am on Wednesday, June 14, the Mountain View City Council rejected a motion to immediately enact a ban on oversized vehicle parking on the streets of Mountain View. This proposal, endorsed in principle by a Council majority on March 19, was designed to drive hundreds of our vehicle residents off the streets at a time when there would be no place for them to go. Even if the city's safe parking plans, endorsed by Council on Tuesday night, are successfully implemented, there would be off-street spaces for only a fraction of the vehicles, and only at night – with no place for these residents to park their homes during the day.
About fifty opponents of the ban rallied in Civic Center Plaza, in the heat, before the meeting. Even more opponents, many wearing "Stop the Ban" stickers supplied by the Housing Justice Coalition, filled the chambers early Tuesday evening. According to the press, only about twenty remained at the end of the meeting. After midnight, a series of public speakers, including vehicle residents, homeowners, renters, legal experts, and representatives of social service agencies, made thoughtful, impassioned pleas against the ban.
Thank you to everyone, and everyone else who sent messages to the Council. We won this battle, so we will NOT need to collect signatures in July to prevent the ban from being implemented.
HOWEVER:
"The Council directed staff to return in Fall 2019 with a report that includes the following components:
Daytime parking restrictions around Eagle Park and Rengstorff Park, as well as key bike and pedestrian corridors, to address safety concerns;
Information on what oversized vehicle parking restrictions in residential zones might look like; and
An ordinance with a citywide overnight prohibition of oversized vehicle parking from 2:00 – 6:00 a.m. that could go into effect by January 1, 2020, after the proposed City Safe Parking spaces would be available."
3) The third bullet is the one that concerns me most. Should we call it a "virtual" ban or a "sneaky" ban? Though I'm hesitant to question the motives of all Council members, banning the overnight parking of large vehicles city-wide would create survival problems for many vehicle residents, particularly if the planned city-operated Safe Parking lots have strict 7 pm to 7 am limits.
That is, the new proposal, borne of sleep-deprived "compromise," may be a ban on most oversized vehicles, even though it was pitched simply as a time restriction. Why doesn't the City ask vehicle residents what this would mean? As far as I know, the only policy outreach that Mountain View has done with vehicle residents is the meeting that I convened, as Mayor, in December 2018
Furthermore, as the proponents of a 24/7 prohibition on oversized vehicle parking pointed out, the middle-of-the-night restriction would do nothing directly to address the traffic and bike safety issues that many associate with oversized vehicle residences.
So I'm not sure what this proposal would do, other than force vehicle residents out of town or into tents.
2) Restrictions on vehicle residences in residential zones sounds intriguing, but if you travel around the city you'll notice that vehicle residents uniformly avoid parking in front of other residences. Yet some have found non-obtrusive places to park in residential areas.
1) I have long favored parking restrictions that improve traffic and bike safety. In fact, city staff already has that authority. When employees and patients at the Palo Alto Medical Foundation expressed concern that oversized vehicles – construction trucks as well as residences – were making it difficult to exit the underground parking garage at Continental Circle, I relayed the concern to city. They immediately painted the curb red, and soon thereafter they posted signs restricting tall vehicles. See the attached photo.
A new ordinance might help, but as the Public Works Director pointed out Wednesday morning, it will be difficult to correctly anticipate the situations need to be addressed.
I am concerned by proposals to further restrict vehicle residences at Rengstorff Park. Across Crisanto Ave. from the park is the greatest concentration of oversized residences in Mountain View, yet I have been to many events at the park and I have seen no problems. I don't think we should force people out because some people don't want to see them when they go to the park.
The Council seems to have dropped the suggestion, made by Council member Ramirez, that the city remove parking restrictions in industrial and commercial areas. To my knowledge, many of those were enacted without Council support, yet some of these streets seem more suitable than streets where vehicles are parked now. See photo. If the Council objects to current parking patterns, why can't the city figure out better streets where people can park their homes?
So, while there is room for safety-oriented restrictions, housing justice advocates will again have to mobilize to oppose the virtual or sneaky ban when it comes back to Council.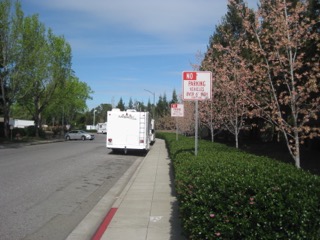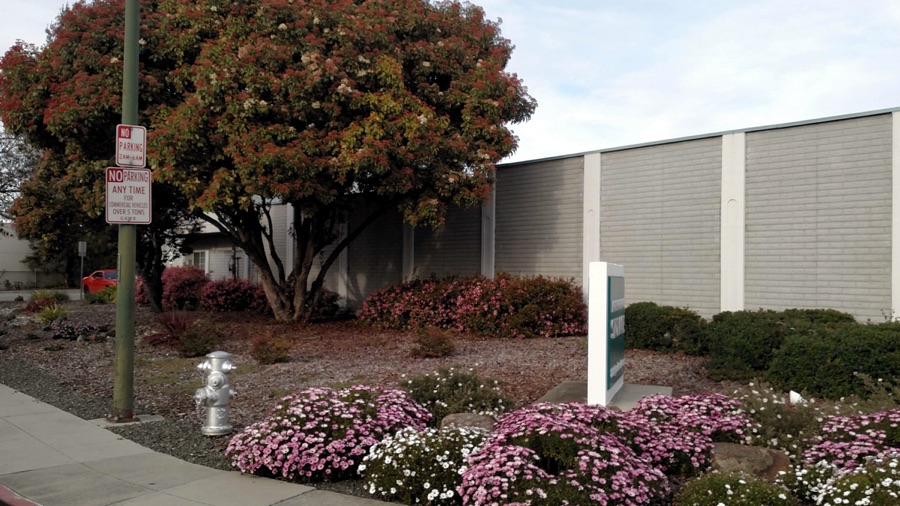 STOP THE OVERSIZED VEHICLE BAN – SPREAD THE WORD – SAVE THESE DATES
The Mountain View City Council is poised to enact an unconstitutional ban on people living in oversized vehicles on city streets. If implemented, this ordinance would change Mountain View from a human rights city that treasures socio-economic and ethnic diversity into a city that accepts displacement, gentrification, and intolerance.
The Mountain View Housing Justice Coalition believes that most Mountain View residents oppose this outrageous proposal. Mountain View should be working with other local cities to find places for vehicle residents to stay, not leaving them with nowhere to go. This is an "all hands on deck" moment. We will ask the Council to reject the ban, and we are preparing to circulate referendum petitions if the Council approves it.
The oversized vehicle ban comes to City Council on Tuesday, June 11, some time after 6:30 pm. The Council currently plans to discuss, but not enact, a "Safe Parking" ordinance before considering the ban.
Tuesday, June 11: The Coalition and its allies will gather in Civic Center Plaza starting at 5:00 pm to make signs. We will hold rally at 5:30 pm before going inside the Council Chambers. Please come when you can. Be prepared to wear "Stop the Ban" stickers, hold up signs, and testify.
Thursday, June 20: At 7:00 pm the Housing Justice Coalition will meet at the St. Joseph Parish Offices on Hope Street to plan our next steps. Assuming the Council has voted for the ban, we will be organizing a referendum signature drive, and we will be "passing the hat" to collect funds to cover preliminary expenses.
Tuesday, June 25: If the Council approves the ban on June 11, it will have to pass the ordinance again. It's called the "second reading." We will again be asking people to attend the Council meeting that night.
As soon as practical after the June 25 Council action, if the Council enacts the ordinance, we will begin collecting signatures on a referendum petition. It will be a "heavy lift" to gather more than 4,000 signatures of Mountain View registered voters in 30 days. We believe people will sign the petition, but it will take a small army of volunteers to collect them. If you can help, please send a message to MVHJC@sonic.net. Remember, we can't collect signatures until after the second reading.
I will shortly be sending messages describing both the proposed Oversized Vehicle Parking Prohibition Ordinance and the Safe Parking proposal.
SUMMARY OF THE PROPOSED BAN ON OVERSIZED VEHICLE PARKING
The Mountain View City Council will be voting on the proposed Oversized Vehicle Parking Prohibition Ordinance on June 11, 2019. This ordinance is designed to prevent vehicle residents from parking and living on city streets. For the staff report, ordinance language, and supporting documents go to https://mountainview.legistar.com/LegislationDetail.aspx?ID=3975632&GUID=065D6318-709C-4C77-91F5-1962033CD37B&Options=&Search= .
Note that there is no new legal analysis responding to the objections raised by the American Civil Liberties Union, the Community Law Foundation of Silicon Valley, and the Stanford University Community Law Clinic. The agenda packet simple re-sends the analysis prepared by the City Attorney's office for the March 19, 2019 Council meeting. That memo highlighted court cases that call into question the City's ability to prohibit people from living on public rights of way or vehicles on the streets, and it concluded: "In addition, the number of lawsuits challenging other cities' regulations that affect the parking of vehicles being used as habitation has increased, so an oversized vehicle ban is not without risk."
The proposed ordinance would prohibit the parking of oversized vehicles on the streets of Mountain View, with limited exceptions. The City would likely seek CalTrans cooperation to outlaw oversized vehicle parking on El Camino Real.
The proposal would apply 24/7, so even if the city and charitable organization provide off-street overnight parking, most vehicles residents would have no place to go during the day. City staff offers, but does not recommend, an alternative that would only ban overnight parking on city streets. In either case, it would be difficult for most vehicle households to remain in Mountain View. "In addition to administrative penalties and parking citations, an oversized vehicle parked in violation of the prohibition could be towed."
While the ordinance would take effect on July 25, city staff estimates the enforcement could not take place until late September or early October because signs would have to be posted Citywide. Alternatively, the Council could delay enforcement until a City-controlled safe parking lot is opened or as late as January 1, 2020.
THE SAFE PARKING PROPOSAL IS FLAWED
On Tuesday, June 11 the Mountain View City Council will be considering, but not acting upon, proposals to encourage the creation of off-street parking options for people living in vehicles. These include the establishment of a Safe Parking Ordinance to govern private parking lots made available for vehicle residency and the creation of two City-controlled Safe Parking lots.
Documents associated with this agenda item may be found at https://mountainview.legistar.com/LegislationDetail.aspx?ID=3975626&GUID=BC84523D-9E2A-4EE2-98EB-139F8C939622&Options=&Search= .
Safe Parking is a good idea. And the options before the Council are complicated. But the current proposal is fundamentally flawed.
The Council is expected to enact the Oversized Vehicle Parking Prohibition this month (June, 2019), but it is not scheduled to vote on Safe Parking until September at the earliest.
Safe Parking would be for overnight parking (7 pm to 7 am) only. It is cumbersome for people to move their homes twice a day and go to work or school. Furthermore, the recommended Oversized Vehicle Parking Prohibition would not allow them to park the vehicles on city streets during the day.
The proposed program envisions only 60 spaces to serve a current count of over 200 vehicle residences. The staff report also estimates the cost of increasing the number of spaces to 100.
City-imposed requirements would make the program expensive for both public and private entities.
City-imposed restrictions would make if difficult for some vehicle residents to take part.
The lots expected to provide the bulk of spaces woould be available for only limited duration. The Palo Alto Housing and VTA lots would be available only until ground is broken on planned developments. The Shoreline Amphitheater parking lot would only be available during one off-season (Winter 2019-2020).
For the elements of a more practical, compassionate Safe Parking program, I suggest reading
https://www.mv-voice.com/print/story/2019/06/07/council-should-show-compassion-for-vehicle-dwellers.